About Us
China Chef is a Chinese takeaway in Irvine. Why don't you try our Sweet & Sour Pork Chops Hong Kong Style or Curry Parcels (8)?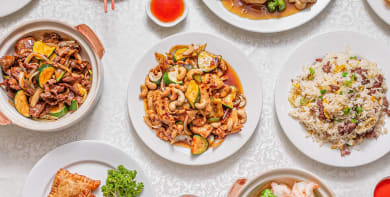 Reviews
236 reviews
Alan
"Excellent food delivered on time and delivery driver friendly and polite, great service."
29/05/2020
Lucy
"Delicious meal!"
17/05/2020
Marlene
"Lovely meal but the chips are not as good as they were several months ago"
17/05/2020
Margaret
"Lovely set meal and good price will order again"
16/05/2020
Menu
Hoisin Combination Regular
£7.00
Hoisin King Prawns Regular
£7.00
Hoisin Roast Duck Regular
£7.00
Kung Po Beef
Contains nuts
£6.30
Kung Po Char Siu
Contains nuts
£6.30
Kung Po Chicken
Contains nuts
£6.30
Kung Po Combination
Contains nuts
£7.00
Kung Po King Prawns
Contains nuts
£7.00
Kung Po Roast Duck
Contains nuts
£7.00
King Prawns in Peking Sauce Regular
£7.00
King Prawns in Peking Sauce Spicy
£7.00
Roast Duck in Peking Sauce Regular
£7.00
Roast Duck in Peking Sauce Spicy
£7.00
Special Combination in Peking Sauce Regular
£7.00
Special Combination in Peking Sauce Spicy
£7.00
Shredded Beef in Peking Sauce Regular
£6.80
Shredded Beef in Peking Sauce Spicy
£6.80
Shredded Chicken in Peking Sauce Regular
£6.80
Shredded Chicken in Peking Sauce Spicy
£6.80
Beef in Peking Sauce Regular
£6.60
Beef in Peking Sauce Spicy
£6.60
Chicken in Peking Sauce Regular
£6.60
Chicken in Peking Sauce Spicy
£6.60
Beef with Tomato & Egg Drop Soup
£2.80
Crab Meat & Sweetcorn Soup
£2.60
Roast Duck with Mushrooms
£7.00
Roast Duck with Oyster Sauce
£7.00
Roast Duck with Pineapple
£7.00
Roast Duck with Sweetcorn
£7.00
Roast Duck with Black Pepper Sauce
Spicy
£7.00
Roast Duck with Cashew Nuts
£7.00
Roast Duck with Chilli & Garlic Sauce
Spicy
£7.00
Roast Duck with Ginger & Spring Onion
£7.00
Roast Duck in Orange Sauce
£7.00
Roast Duck with Green Peppers Regular
In black bean sauce
£7.00
Roast Duck with Green Peppers Spicy
In black bean sauce
£7.00
Roast Duck with Mushroom Regular
In black bean sauce
£7.00
Roast Duck with Mushroom Spicy
In black bean sauce
£7.00
King Prawns with Green Peppers Regular
In black bean sauce
£7.00
King Prawns with Green Peppers Spicy
In black bean sauce
£7.00
King Prawns with Mushroom Regular
In black bean sauce
£7.00
King Prawns with Mushroom Spicy
In black bean sauce
£7.00
Special Combination with Green Peppers Regular
In black bean sauce
£7.00
Special Combination with Green Peppers Spicy
In black bean sauce
£7.00
Special Combination with Mushroom Regular
In black bean sauce
£7.00
Special Combination with Mushroom Spicy
In black bean sauce
£7.00
Chicken with Mushroom Regular
In black bean sauce
£6.30
Chicken with Mushroom Spicy
In black bean sauce
£6.30
Chicken with Green Peppers Regular
In black bean sauce
£6.30
Chicken with Green Peppers Spicy
In black bean sauce
£6.30
Beef with Green Peppers Regular
In black bean sauce
£6.30
Beef with Green Peppers Spicy
In black bean sauce
£6.30
Beef with Mushroom Regular
In black bean sauce
£6.30
Beef with Mushroom Spicy
In black bean sauce
£6.30
Spare Ribs with Gravy (4)
Mini Vegetable Spring Roll (8)
Sweet & Sour Chicken Hong Kong Style
Malaysian Sambal King Prawns
£7.00
Salt & Pepper Chicken
Spicy
£6.80
Pork Chop in Honey Chilli Sauce
Spicy
£6.80
Shredded Beef in Honey Chilli Sauce
Spicy
£6.80
Shredded Chicken in Thai Sweet Chilli Sauce
Spicy
£6.80
Shredded Beef in Thai Sweet Chilli Sauce
Spicy
£6.80
Shredded Chicken in Honey Chilli Sauce
Spicy
£6.80
Salt & Pepper Shredded Chicken
£6.80
Chicken Mushroom With Chips
£4.80
Chicken Mushroom With Rice
£4.80
Sweet & Sour Chicken Hong Kong Style With Chips
£4.80
Sweet & Sour Chicken Hong Kong Style With Rice
£4.80
Chicken in Black Pepper Sauce
£6.60
Honey Chilli Chicken
Spicy
£6.60
Chicken with Oyster Sauce
£6.60
Chicken with Bamboo Shoots & Water Chestnuts
£6.30
Chicken with Bean Sprouts
£6.30
Chicken with Chilli & Garlic Sauce
Spicy
£6.60
Chicken with Garlic Sauce
£6.30
Chicken with Ginger & Spring Onion
£6.60
Chicken with Mixed Vegetables
£6.30
Thai Sweet Chilli Chicken
Spicy
£6.60
Beef with Black Pepper Sauce
£6.60
Beef with Chilli & Garlic Sauce
Spicy
£6.60
Beef with Ginger & Spring Onions
£6.60
Special Meal for One
Choice of:
Chicken & noodle soup
Chicken & sweetcorn soup
Cream of chicken soup
Choice of:
Spare ribs (with gravy) (4)
Chicken wings (4)
Mini vegetable spring roll (8)
Curry parcels (8)
Choice of ONE main dish:
Sweet & sour chicken Hong Kong style
Chicken OR beef curry
Chicken OR beef with onions
Fried rice OR chips included
Prawn crackers
£9.00
Special Chow Mein with Gravy
£6.80
Spicy King Prawn Chow Mein
£6.50
King Prawns with Black Pepper Sauce
£7.00
King Prawns with Cashew Nuts
£7.00
King Prawns with Chilli & Garlic Sauce
Spicy
£7.00
King Prawns with Ginger & Spring Onion
£7.00
King Prawns with Mushrooms
£7.00
King Prawns with Oyster Sauce
£7.00
King Prawns with Pineapple
£7.00
King Prawns with Sweetcorn
£7.00
King Prawns with Tomatoes
£7.00
Munch Box
Chicken wings (2)
Chicken balls (2)
Ribs (2)
Mini vegetable spring roll (2)
Curry parcels
Chips
Curry, gravy OR sweet & sour sauce
Can of juice
£7.00
Mixed Grill
With onion, mushroom & peas
£7.50
Mushroom Omelette
With cheese 50p extra
£6.00
Pork Chops
With onion, mushroom & peas
£7.00
Plain Omelette
With cheese 50p extra
£6.00
Sirloin Steak
With onion, mushroom & peas
£10.50
Sliced Chicken in Gravy
With onion, mushroom & peas
£7.00
Special Omelette
With cheese 50p extra
£6.80
Chicken in White Wine Sauce
£7.00
Chicken Omelette
With cheese 50p extra
£6.50
Ham Omelette
With cheese 50p extra
£6.50
Salt & Pepper Chips
Spicy
£3.50
King Prawns Satay On Skewers
Contains nuts
£7.50
King Prawns Satay Regular
Contains nuts
£7.00
Roast Duck Satay
Contains nuts
£7.00
Special Combination Satay
Contains nuts
£7.00
Char Siu Satay
Contains nuts
£6.30
Chicken Satay On Skewers
Contains nuts
£6.80
Chicken Satay Regular
Contains nuts
£6.30
Special Fried Rice with Gravy
£6.80
Sweet & Sour Chicken Hong Kong Style Regular
£6.00
Sweet & Sour Chicken Hong Kong Style Spicy
£6.00
Sweet & Sour Chicken in Batter Regular
£6.00
Sweet & Sour Chicken in Batter Spicy
£6.00
Sweet & Sour Chicken Sliced Regular
Not in batter
£6.80
Sweet & Sour Chicken Sliced Spicy
Not in batter
£6.80
Sweet & Sour Combination Hong Kong Style Regular
£7.00
Sweet & Sour Combination Hong Kong Style Spicy
£7.00
Sweet & Sour Combination in Batter Regular
£7.00
Sweet & Sour Combination in Batter Spicy
£7.00
Sweet & Sour King Prawns Hong Kong Style Regular
£7.00
Sweet & Sour King Prawns Hong Kong Style Spicy
£7.00
Sweet & Sour King Prawns in Batter Regular
£7.00
Sweet & Sour King Prawns in Batter Spicy
£7.00
Sweet & Sour Pork Chops Hong Kong Style Regular
£6.80
Sweet & Sour Pork Chops Hong Kong Style Spicy
£6.80
Sweet & Sour Pork in Batter Regular
£6.00
Sweet & Sour Pork in Batter Spicy
£6.00
Sweet & Sour Roast Duck Hong Kong Style Regular
£7.00
Sweet & Sour Roast Duck Hong Kong Style Spicy
£7.00
Salt & Pepper Pork Chops
Spicy
£5.50
Salt & Pepper Spare Ribs
Spicy
£5.50
Salt & Pepper Squid
Spicy
£5.50
Salt & Pepper Chicken Appetiser
Spicy
£5.50
Salt & Pepper Chicken Balls
Spicy
£5.20
Salt & Pepper Chicken Wings
Spicy
£4.90
Spare Ribs with Sauce BBQ
£5.50
Spare Ribs with Sauce Honey Chilli
£5.50
Spare Ribs with Sauce Peking
£5.50
Spare Ribs with Sauce Spicy Peking
£5.50
Mussels in Black Bean Sauce
£5.50
Mini Vegetable Spring Roll (12)
£3.00
Mixed Starter
Spare ribs, chicken satay on skewers, sesame prawns on toast, vegetable spring roll, crispy wonton & chicken wings - served with sweet & sour sauce
£8.00
Crispy Aromatic Duck Half
Served with pancakes, spring onion & hoisin sauce
£16.00
Crispy Aromatic Duck Quarter
Served with pancakes, spring onion & hoisin sauce
£8.80
Crispy Wonton with Sweet Chilli Dip
£4.50
Chicken Wings with Sauce Honey Chilli
£4.90
Chicken Wings with Sauce Peking
£4.90
Chicken Wings with Sauce Spicy Peking
£4.90
Chicken Wings with Sauce Thai Sweet Chilli
£4.90
Chicken & Cheese Roll (2)
£3.50
Chicken Satay Skewers (3)
Contains nuts
£4.90
Vegetable Spring Roll (3)
£3.00
King Prawns Curry Regular
£7.00
Breast of Chicken Curry Regular
£6.80
Breast of Chicken Curry Sweet
£6.80
Contact Us
Find Us
16 Sloan Avenue, Irvine, KA120HR